Are you attending Boulder Startup Week events this year with the hopes of being more involved and developing a deeper understanding of the content being presented from speakers?
Welcome to the Creative Track, a new track added in 2019, to shift from passively listening to actively participating in the content being presented. Our goal is to engage and ignite your creativity as you work "hands on" in your learning. Our track captain, Paula Kehoe, sought out creative community leaders and requested that events engage audience members in some way. As a result, here is the lineup.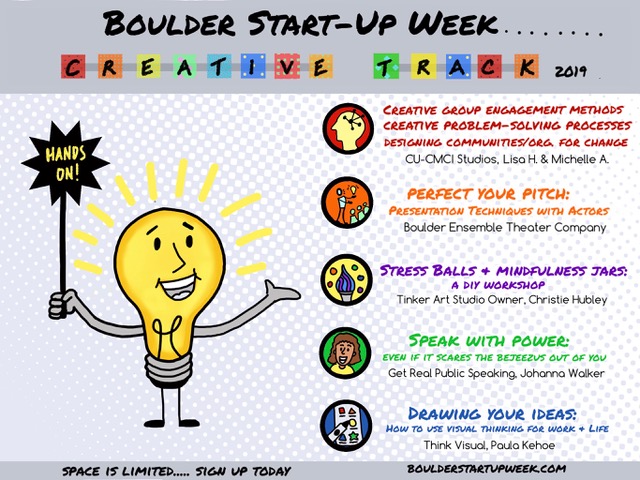 CMCI Studios at CU, Lisa Leslie Henderson and Michelle Auerbach
Spark Real Engagement Anywhere: An Introduction to Liberating Structures Unleash the power of self-organization to generate the kind of engagement we need in our organizations.
What Kind of Creative Thinker Are You? An Introduction to the FourSight Profile A hands-on exploration on how to think better, more flexibly, and more creatively. The Future is all Science Fiction: Designing Communities and Organizations for Change The four-step process starts with future design, moves through the pleasures and dangers of what we have not yet seen, finding the points where we can have the most influence and be the most resilient, and then grow the community that can get you there.
Tinker Art Studio, Christie Slater Hubley, Founder & Director
Stress Balls and Mindfulness Jars: a DIY workshop Take a break to make during this DIY workshop focused on tools to encourage and support short mindfulness practices. The workshop will also include the opportunity to discuss brick-and-mortar small business ownership in the creative field.
Get Real Public Speaking, Founder Johanna Walker
Speak With Power (even when it scares the bejeezus out of you) Join speaking coach, storytelling expert and co-host of Boulder's story slam Truth Be Told, Johanna Walker, for this interactive session where you'll learn tips for turning fear & nerves around public speaking into confidence, power & ease.
Boulder Ensemble Theater Company
Perfect Your Pitch: Vocal Coaching Techniques Want to give the best pitch talk possible? Bring in one minute of pitch-worthy text to this interactive workshop. You'll leave 50 minutes later with tips and tricks for effective storytelling performance. Make your pitch memorable through confidant communication skills and dynamic presentation techniques.
Think Visual, Founder, Paula Kehoe
Drawing Your Ideas: How to Use Visual Thinking for Work & Life Welcome to the world of Visual Thinking with this hands on event showing you the power of pen and paper. In this workshop, you will learn basic visual strategies and how to draw visuals/icons for mind- mapping, brainstorming, presenting, storytelling and collaborating.
View the complete schedule and sign up here!