Core to the mission of BSW is bringing the unique Boulder startup community together in an inclusive, educational, and engaging way. If you wish to see this in action, look no further than Basecamp!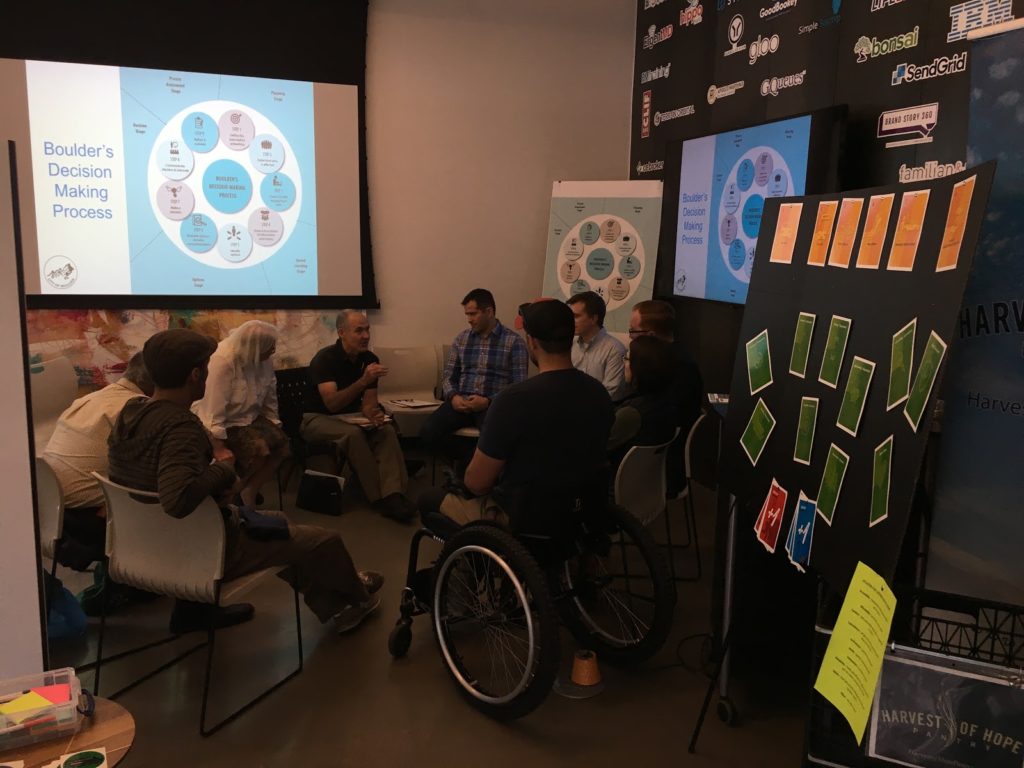 Open daily 8am to 5pm, Basecamp (located in Gather cafe at Galvanize), is a place for BSW participants to orient themselves, grab a free Boulder Startup Week T-Shirt (while supplies last), and engage with local startups, entrepreneurs, and innovators.
When crafting this years Basecamp layout and programming, co-coordinator Hallie Cohnstrenger says, "great emphasis was put on showcasing the open and giving nature of the community in a manner that is both approachable and genuine." The end result is a balance of activities that promote the sharing of lessons learned, reliable navigation assistance, discovery of local brands, and getting to know the humans (and dogs) who make the Boulder startup community so special. In the words of her co-coordinator, Scott Cohnstrenger, "we hope everyone can leave Basecamp having gained a little extra something, whether it be advice, a new friend, or even a yummy treat."
The published schedule provides a glimpse into Basecamp happenings but be sure to stop by whenever you find yourself between sessions for surprise giveaways and the chance to participate in ongoing activities like Human Bingo and Career Confidential.
Still not sure if you'll be visiting Basecamp? Perhaps one of these events will catch your fancy….
Dogs of BSW Yappie Hour (Friday, 5/17, 2pm – 4pm)
Opportunity for the true VIPs of the Boulder Startup Community (dogs) to mix, mingle and rub tails with the most entrepreneurial canines around.
Participating vendors will be providing some awesome dog swag and the event sponsor, Humane Society of Boulder Valley, will have special prices for the most creative dog pic posted to instagram with the hashtag #DogsofBSW throughout BSW.
Studio Arts Boulder Clay Lab (Monday, 5/13, 11:30am – 2:30pm)
A purely play station where participants can take a well-deserved break from the jam-packed BSW schedule and relax while trying the potter's wheel or molding clay by hand.
Discounted Professional Headshots (Tuesday, 5/14, 9am – 3pm and Thursday, 5/16, 9am – 3pm)
Quick 10 minute photo sessions at a special discounted startup rate of $10. Sessions are first come first served, but participants can reserve their spot in advance here. Walk-ins welcome!  
Updated Basecamp Spotlight Series
Building on the success of last years inaugural Basecamp Spotlight Series, we are bringing it back for Boulder Startup Week 2019 (with some minor tweaks based on community feedback). This years series will involve intimate and insightful roundtable discussions based on the unique theme for Basecamp each day. Each Roundtable discussion will be capped at 12 participants to maximize engagement and the sharing of valuable insights and advice.  
The 2019 themes for Basecamp are as follows:
Monday (5/13): Rocking the Side Hustle
Tuesday (5/14): Unlocking Human Potential
Wednesday (5/15): Building Brand Awareness
Thursday (5/16): Community Impact
Friday (5/17): Full Scale Ahead